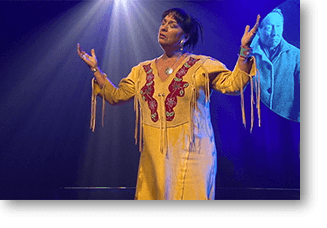 Returning to her Roots and her aboriginal heritage, a performance by Canadian Artist Laura Vinson has all the ingredients. Authentic Native sound, songs and stories about North American Indians mixed in a contemporary musical show.




The ancestral spirit is audibly present when the Indigenous Dancers enter the stage and perform their traditional dances. Visually, emotionally and musically this is a glimpse into the life and history of Native North American Indians- you can feel the Spirits are there.

Laura Vinson is active in the music industry for over 45 years now. She started her career as country star, had several hits including the hit "Sweet Mountain Music". Laura Vinson and her Band Free Spirit are a regular on all the major festivals and venues in North America and is a frequent guest on many national TV shows. In 1996, after her time as a country artist, Vinson created a theater show around her highly successful album "Voices On The Wind", an album for which she has received several Aria Awards.



Her Native roots inspired Vinson to this album to take a large audience to get familiair with its culture and heritage. The show appears to be an international success, both the festival edition and the unique theatrical version. The show traveled around the globe (South Korea, United States, Australia, Denmark, Lithuania, Belgium and the Netherlands).



A colorful display of Native North American rhythms and uplifting lyrics about the wonderful life then and now with the currents of Native, Metis, western and Celtic influence tells the story of Western Canada.



"Born and raised in The Rocky Mountains"

Laura Vinson is born and raised in the shadows of the Rocky Mountains near Jasper National Park. Her Métis heritage is Cherokee, Cree English and French. The roots of her Aboriginal background are told in her songs which tell about the life of the North American Indians and their traditions. "Louisiana Purchase" is a true story about her Cherokee Great-Grandmother who was purchased by her American husband for just a "good horse and some blankets".

To be in the audience at a Laura Vinson & Free Spirit concert is to experience what it was like to be part of the spiritual and tribal rituals of a time long past. One feels the Ancestral Spirits hovering over the performers especially when the Native dancers make their proud and mysterious entrances. Their dazzling outfits, dances, songs and drumming come from centuries of spiritually and tradition. It evokes a feeling of the past and present merging in Laura's songs, the bands music and the ancient rhythms and melodies from the Native performances.

A performance from Laura Vinson combines traditional music performed in a comtemporary presentation and involves the audience in the other side of the Wild West way of life in historical and present day North America.